Koein is a "user experience centric" digital agency with a proven track record of more than 1200 successfull projects in nearly every business sector.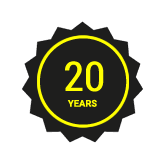 Since 2001 the interactive experiences we built, captured clients' interest, trust and loyalty and inspired millions of users.
Awarded
"Digital agency of the year"
in the MENA region for 4 consecutive years and winners of
more than 80 regional and international awards.
Koein transforms ideas to successful digital products, and optimises online presence for businesses and brands.